Liselore Frowijn Collection SS18

Title
About
Technique
Links
Liselore Frowijn Collection SS18
Michiel Schuurman and Liselore Frowijn collaborated on a kaleidoscopic collection of garments inspired by a trip to Mexico. Ahead of the collection's Paris launch, we caught up with them to discover how it all came together...
Inkjet on cottons and silks
Textile
2017

This is the first version of the print design. It was used for the SS18 RESORT COLLECTION





So this is a big project to cover. It all starts with me bumping into Liselore in a train and telling her that I want to work with her. Luckily she accepted the offer and a few months later she called me with a brief. The whole thing is best explained in the following interview we had for Grafik Magazine:

MEXICAN WAVE (this is taken from the interview with GRAFIK.NET 8-10-2018)

Michiel Schuurman and Liselore Frowijn recently collaborated on a kaleidoscopic collection of garments inspired by a trip to Mexico. Ahead of the collection's Paris launch, we caught up with them to discover how it all came together...

How did you two meet, and what made you decide to collaborate?
Michiel Schuurman: I met Liselore at Vlisco, a 170-year-old fabric company that produces the batik-textiles that are famous in the West of Africa. Liselore was working on a collection with fabrics from the Igbo tribes, and I was in the textile design team. Long after we had both quit Vlisco we met again on a train, and immediately decided to work together on a collection. For me, it was a fantastic opportunity to see how I could evolve my pattern designs and explore different techniques. It was also a chance to see if I could 'shake off' the Vlisco feel of my textile designs.

Liselore Frowijn: For me, there is no other illustrator like Michiel in the world, so it was a great opportunity to integrate his unique patterns into my collections and make our two worlds stronger together.





SS18 Resort collection

Tell us about the research trip to Mexico that sparked your ideas for the collection…
LF: Arriving in Mexico was a whole new experience for me, as I had never traveled to this part of our world. I was enchanted by the generosity of its inhabitants, who proudly showed me their cultural heritage, new initiatives on art and design, and I was mesmerised by the changing landscapes and beautiful colours of Mexico. It's an enormous country with a very rich palette of cultural sources, and visiting Mexico made me wonder how it's possible that as a country they have been so overshadowed by their neighbours in the USA, and the horrors of the wall that they are trying to build now.



How would you describe the key idea or concept behind the collection?
LF: Humans migrate in a natural way—we all cross borders motivated either by necessity or by the desire for freedom. Freedom of movement is what defines life. When a wall is being built, you can't prevent people from wanting to climb it. That act is a cry for freedom for those people, and no borders or boundaries will stop them. I spoke with many Mexicans who are proud to be building an independent future, but who embrace their old crafts and traditions as well. Within this collection I captured these influences by intertwining souvenirs I collected on my travels.

How did the creative process begin—did the fabric prints come first, or the garment design, or were they both created simultaneously?
MS: Liselore had the vision and her sketches ready when we met in her studio earlier this year. We had a very pleasant conversation about her sources of inspiration in general, and about her trip to Mexico. We concluded the day with the design brief of "thinking about Frida Kahlo in space, and laser cacti".

Liselore gave me total freedom with the pattern design, but I made sure I kept her updated with screen shots during the process. Matisse came forward as a mutual source of inspiration, and Liselore found out he depicted the cactus several times as a symbol for hope, which seemed very appropriate for our direction as well. The sketches I made were immediately absorbed into Liselore's garment designs. That way, we made sure that there would be no big surprises in the end. This was especially important to determine the final colours of the print.

SS18 finalised design used for the Paris Fashion Week
Were there any particular technical challenges that the project posed, and how did you both overcome them?
MS: The whole experience was liberating for me. Designing a Vlisco fabric is very complex because of the batik-technique, so working with inkjet fabric printers felt like a breeze. I can use all the colours I want and the fine resolution makes for detailed designs.

LF: Michiel and I have a great creative connection and we can basically discuss anything, so all our practical technical challenges were discussed right away and solved as soon as possible. It's been great to collaborate in this way.

Liselore, what inspired you to choose the silhouettes, fabrics and textures that you incorporate within the collection alongside Michiel's prints?
LF: The silhouettes show a playful deconstruction of military garments, which then fall down like a waterfall of fluid layers symbolising the desired and inevitable freedom of Mexico, imprinted with Michiel's vision in the form of his graphics.

Michiel, can you tell us more about the artworks you have created that will accompany the collection in Paris this September?
MS: The cactus I designed is a personality. I wanted to make something loaded with familiar and unfamiliar symbolism. Something spiritual, erotic and delirious. Like an extremely colourful mirage in a desert.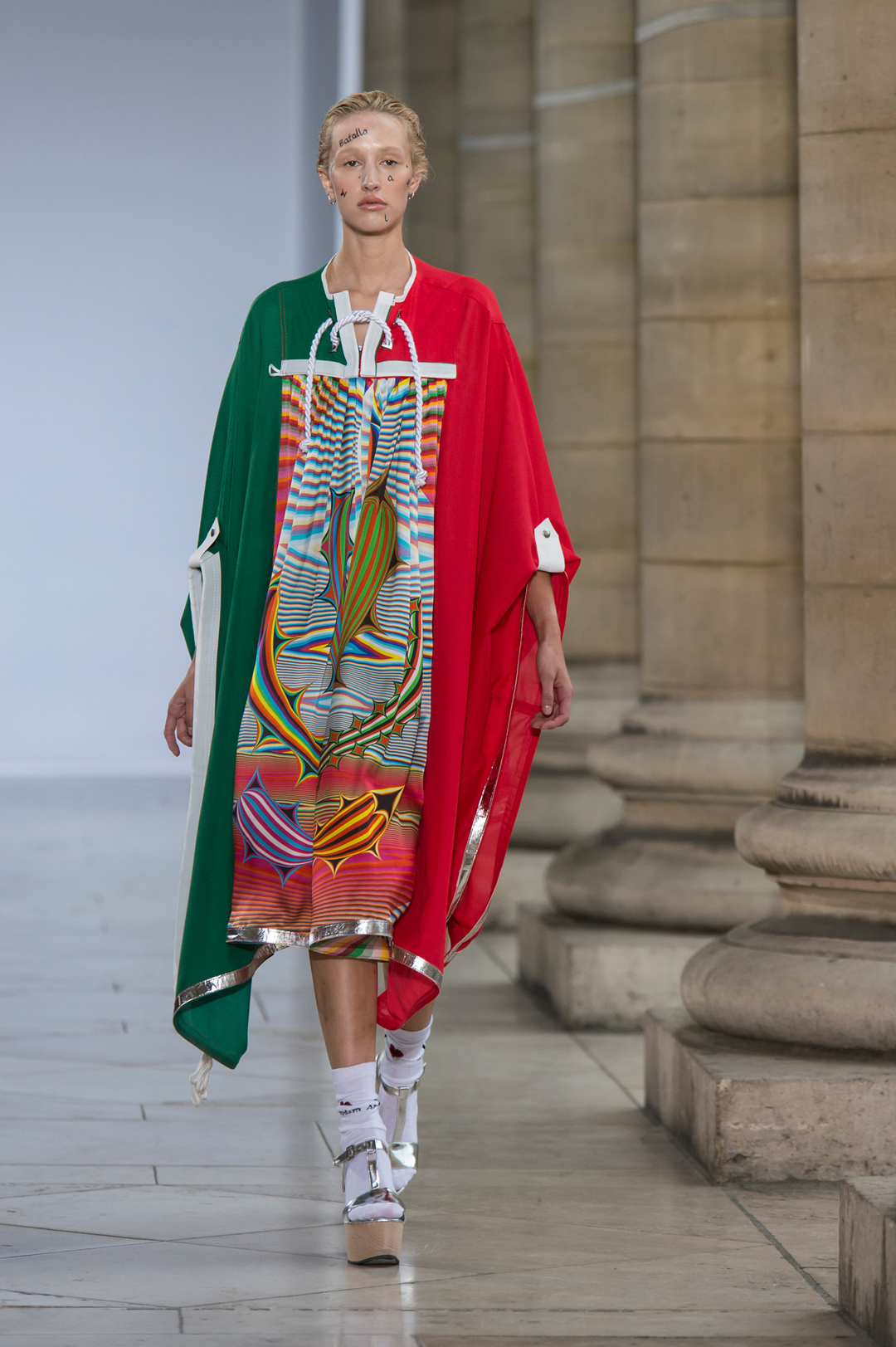 SS18 Paris Fashion Week

How has the collection been exhibited so far, and what can you tell us about the forthcoming presentation of the collection in Paris this September?
MS: The collection was first presented during Amsterdam Fashion Week. We lured the journalists in with a champagne breakfast and a presentation on mannequins in a relaxed atmosphere. I think it worked really well, because the Fashion Weeks are exhausting and a champagne pit-stop can be a much needed distraction from all the running around.

LF: Also, until Sunday 10 September you can visit the exhibition ''Uit de Mode' in the Centraal Museum Utrecht, where you can see eight of the looks from the the Resort 2018 FROWIJN & SCHUURMAN collection curated by Pieter Eliens in the final room of his exhibition on future generation. On 2 October, the newest collaboration between Michiel and I will be presented in Paris with the Spring/Summer 2018 collection!
---
All Work